About my style
I take a very natural approach to portraiture. I use a mixture of photojournalism, traditional, and fine art to give you the best photos possible. I work on location, which means that I will come to you. This can be anywhere from your personal home to an outdoor setting of your choice. I like to capture people of all ages just being themselves. While we will still have some "Ok, now look into the camera and say cheese" moments, I enjoy capturing moments and relationships as they really are. This is the huge advantage of not being inside the four walls of a studio somewhere, and you will be much more satisfied with your pictures.
About you
Since I shoot on location, you are in charge of what 'background' your pictures will have. You may want pictures of your children at home in your own backyard, or a romantic sunset behind you and your significant other. Children are easier to photograph when they feel safe and comfortable; and, where could they feel more safe than your own home?

I use a mixture of studio lighting and natural light for my portraits; but even with professional studio lighting, it is hard to mimic the natural beauty and glow that the sun produces. Because of this, I prefer outdoor/natural light over studio shoots. However, I still like the ability to control light, and many times it produces some of the neatest pictures. So, if studio lighting is needed, my studio equipment is portable and can be easily set up in your home in just a few minutes. If you are wanting outdoor portraits, please remember that early morning and late afternoon have the best natural light.

While most sessions last about an hour or a little longer, there is no set time limit. There is no need to rush, or get all stressed. I make sure I allow the little ones time to warm up and feel comfortable. Small infants, on the other hand, don't have a understanding of time like we do. When scheduling for small infants, choose a time of day when the infant is normally happy and playful. It usually helps if they eat a little before I show up, so they are not fussy. For newborns, the perfect timing is when they are 7-10 days old. They normally sleep easily and you'll get some of those nice curl pictures.
About your pictures
Proofs are usually available in 2-3 weeks after the photo shoot. You will receive an online album that you can share with family and friends. Once you decide what picture you want printed, please allow about a week for prints to arrive.
What to Wear?
Think simple! Try not to wear busy patterns, or shirts with large logos or words. Try to get colors that complement each other, but they don't necessarily have to match. Remember, you want to show depth and separation; so, try some bold colors mixed with layering, but don't let it get too out of hand. It will distract from your faces. The only thing that you don't want to do is show too much skin. It makes the pictures busy and distracting. Pictures taken with less skin showing look better and put the focus on your beautiful faces.

Remember, you want pictures that show you for who you are. I love taking pictures that show off your own personality, so bring your favorite hat, cowboy boots, your child's favorite toy, or anything that is just 'you'!

If you have any questions on what to wear, just visit the contact page and send me an email. I'll be more that happy to help.
When am I available?
Just call or email me to see when I am available
About the photographer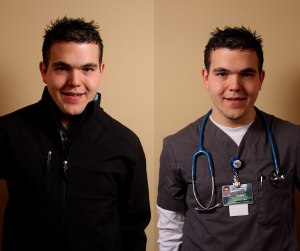 I'm just a simple young man who has always loved to take photographs of people or God's wonderful creation. For as long as I can remember I have loved art and photography, but I didn't get serious about it until I was in nursing school in 2007. While I do really enjoy photography, I equally enjoy my full time job as an RN in the Emergency Department of my local hospital. When I'm not at the hospital or photographing someone (or something), you can probably find me out hiking in the woods or at a friend's house enjoying some coffee.